KICKBOXING CLASS
Bharat Ratna Rajiv Gandhi District Sports Complex, Dharavi, Mum.17
Time : Morning 7.30 am to 9.30 am
Days : Monday Wednesday Friday
Results ( Kickboxing Game ) National & State Championships players of Dharavi Sports Complex
| | | | |
| --- | --- | --- | --- |
| Name | Tournament & Place | Medal | Event |
| Rajesh Patole | 27 cadet & senior Maharashtra state kick boxing Championship 2013 14 | Gold | Full Contact |
| | Venue: Meenatai Thackeray Krida Sankul Panchavati Nashik | | |
| Rajesh Patole | 18th cadet and senior national kickboxing Championship 2013-14 | Bronze | Full contact |
| | Venue: Boxing hall Shiv Chatrapati Sports complex Balewadi | | |
| Rahul Salunkhe | 27 cadet & senior Maharashtra state kick boxing Championship 2013 14 | Gold | Light Contact |
| | Venue: Meenatai Thackeray Krida Sankul Panchavati Nashik | | |
| Rahul Salunkhe | 27 cadet & senior Maharashtra state kick boxing Championship 2013 14 | Gold | Mucical form |
| | Venue: Meenatai Thackeray Krida Sankul Panchavati Nashik | | |
| Rahul Salunkhe | WAKO INDIA 18th cadet and senior national kickboxing Championship 2013-14 | Participate | Light Contact |
| | Venue: Boxing hall Shiv Chatrapati Sports complex Balewadi | | |
| Rahul Salunkhe | 29 th cadet & senior Maharashtra state kick boxing championship 2015 | GOLD | light Contact |
| | Shiv Chatrapati Sports Complex, Balewadi, Pune | | |
| Rahul Salunkhe | 29 th cadet & senior Maharashtra state kick boxing championship 2015 | SILVER | Mucical form |
| | Shiv Chatrapati Sports Complex, Balewadi, Pune | | |
| Rahul Salunkhe | WAKO INDIA Cadet and senior national kickboxing Championship 2015 | silver | light Contact |
| | Venue: NSEC, SECTOR 3, Salt Lake City, Kolkatta 700098 | | |
| Rahul Salunkhe | WAKO INDIA Cadet and senior national kickboxing Championship 2015 | Bronze | Musical Form |
| | Venue: NSEC, SECTOR 3, Salt Lake City, Kolkatta 700098 | | |
| Esther Paramsivan | 28 cadet and senior Maharashtra state kick boxing championship 2014 | Gold | Point Fight |
| | Venue: Anand Gurukul Wagholi Pune | | |
| Esther Paramsivan | 28 cadet and senior Maharashtra state kick boxing championship 2014 | Gold | Musical form |
| | Venue: Anand Gurukul Wagholi Pune | | |
| Esther Paramsivan | WAKO INDIA Cadet &Senior National kick boxing Championship 2014 | SILVER | K-1 |
| | venue: Sports Complex, sector - 12, Faridabad, Hariyana | | |
| Esther Paramsivan | WAKO INDIA Cadet &Senior National kick boxing Championship 2014 | bronze | Musical form |
| | venue: Sports Complex, sector - 12, Faridabad, Hariyana | | |
| Esther Paramsivan | 29 th cadet & senior Maharashtra state kick boxing championship 2015 | GOLD | Kick Light |
| | Shiv Chatrapati Sports Complex, Balewadi, Pune | | |
| Esther Paramsivan | 29 th cadet & senior Maharashtra state kick boxing championship 2015 | SILVER | Musical form |
| | Shiv Chatrapati Sports Complex, Balewadi, Pune | | |
| Esther Paramsivan | WAKO INDIA Cadet &Senior National kick boxing Championship 2015 | Gold | Musical form |
| | Venue: NSEC, SECTOR 3, Salt Lake City, Kolkatta 700098 | | |
| Esther Paramsivan | WAKO INDIA Cadet &Senior National kick boxing Championship 2015 | Silver | Kick Light |
| | Venue: NSEC, SECTOR 3, Salt Lake City, Kolkatta 700098 | | |
| Megha Deshmukh | 28 cadet and senior Maharashtra state kick boxing championship 2014 | Gold | k-1 |
| | Venue: Anand Gurukul Wagholi Pune | | |
| Megha Deshmukh | WAKO INDIA Cadet &Senior National kick boxing Championship 2014 | Gold | k-1 |
| | venue: Sports Complex, sector - 12, Faridabad, Hariyana | | |
| Megha Deshmukh | WAKO INDIA Cadet &Senior National kick boxing Championship 2014 | silver | Musical form |
| | venue: Sports Complex, sector - 12, Faridabad, Hariyana | | |
| Megha Deshmukh | 29 th cadet & senior Maharashtra state kick boxing championship 2015 | GOLD | Light Contact |
| | Shiv Chatrapati Sports Complex, Balewadi, Pune | | |
| Megha Deshmukh | WAKO INDIA Cadet &Senior National kick boxing Championship 2015 | Bronze | Light Contact |
| | Venue: NSEC, SECTOR 3, Salt Lake City, Kolkatta 700098 | | |
| Megha Deshmukh | 29 th cadet & senior Maharashtra state kick boxing championship 2015 | GOLD | Light Contact |
| | Shiv Chatrapati Sports Complex, Balewadi, Pune | | |
| Megha Deshmukh | WAKO INDIA Cadet &Senior National kick boxing Championship 2015 | Bronze | Light Contact |
| | Venue: NSEC, SECTOR 3, Salt Lake City, Kolkatta 700098 | | |
| Priyanka Patel | 29 th cadet & senior Maharashtra state KickBoxing championship 2015 | silver | light Contact |
| | Shiv Chatrapati Sports Complex, Balewadi, Pune | | |
| Priyanka Patel | WAKO INDIA Cadet &Senior National kick boxing Championship 2015 | Bronze | Light Contact |
| | Venue: NSEC, SECTOR 3, Salt Lake City, Kolkatta 700098 | | |
| Balachander Marc | 29 th cadet & senior Maharashtra state Kick Boxing championship 2015 | Bronze | Low Kick |
| | Shiv Chatrapati Sports Complex, Balewadi, Pune | | |
| Balachander Marc | WAKO INDIA Cadet &Senior National kick boxing Championship 2015 | PT | Light Contact |
| | Venue: NSEC, SECTOR 3, Salt Lake City, Kolkatta 700098 | | |
| Samprati Patil | 29 th cadet & senior Maharashtra state Kick Boxing championship 2015 | PT | Light Contact |
| | Shiv Chatrapati Sports Complex, Balewadi, Pune | | |
| Vighnesh U. Murkar | 29 th MKBA Junior Maharashtra State Kickboxing Championship 2015-16 | Gold | Musical Form |
| | Minatai Thakre Indoor Stadium, Vibhagiya Krida Sankul, Panchawati, Nashik | | HS |
| Vighnesh U. Murkar | 29 th MKBA Junior Maharashtra State Kickboxing Championship 2015-16 | Silver | Light Contact |
| | Minatai Thakre Indoor Stadium, Vibhagiya Krida Sankul, Panchawati, Nashik | | |
| Prajwal Khandare | 29 th MKBA Junior Maharashtra State Kickboxing Championship 2015-16 | Gold | Full Contact |
| | Minatai Thakre Indoor Stadium, Vibhagiya Krida Sankul, Panchawati, Nashik | | |
| Preethi Shetty | 30 th MKBA Senior Maharashtra State Kickboxing Championship 2016 | Gold | Light Contact |
| | Gymkhana Hall, Mahatma Phule Krushi Vidyapeeth, Rahuri, Ahmednagar | | |
| Preethi Shetty | 30 th MKBA Senior Maharashtra State Kickboxing Championship 2016 | Bronze | Musical Form |
| | Gymkhana Hall, Mahatma Phule Krushi Vidyapeeth, Rahuri, Ahmednagar | | HS |
| Megha Deshmukh | 30 th MKBA Senior Maharashtra State Kickboxing Championship 2016 | Gold | Musical Form |
| | Gymkhana Hall, Mahatma Phule Krushi Vidyapeeth, Rahuri, Ahmednagar | | HS |
| Megha Deshmukh | 30 th MKBA Senior Maharashtra State Kickboxing Championship 2016 | SILVER | Light Contact |
| | Gymkhana Hall, Mahatma Phule Krushi Vidyapeeth, Rahuri, Ahmednagar | | |
| Vighnesh U. Murkar | 30 th MKBA Senior Maharashtra State Kickboxing Championship 2016 | Bronze | Point Fight |
| | Gymkhana Hall, Mahatma Phule Krushi Vidyapeeth, Rahuri, Ahmednagar | | |
| Vighnesh U. Murkar | 30 th MKBA Senior Maharashtra State Kickboxing Championship 2016 | PT | Musical Form |
| | Gymkhana Hall, Mahatma Phule Krushi Vidyapeeth, Rahuri, Ahmednagar | | HS |
| Minaj Rain | MKBA Cadet Open Maharashtra State Kickboxing Championship 2016 | Bronze | Full Contact |
| | Gymkhana Hall, Mahatma Phule Krushi Vidyapeeth, Rahuri, Ahmednagar | | |
| Anshika Barai | MKBA Cadet Open Maharashtra State Kickboxing Championship 2016 | PT | Point Fight |
| | Gymkhana Hall, Mahatma Phule Krushi Vidyapeeth, Rahuri, Ahmednagar | | |
| Niranjan Patil | MKBA Cadet Open Maharashtra State Kickboxing Championship 2016 | Bronze | Point Fight |
| | Gymkhana Hall, Mahatma Phule Krushi Vidyapeeth, Rahuri, Ahmednagar | | |
| Abhishek Sah | MKBA Cadet Open Maharashtra State Kickboxing Championship 2016 | Gold | Point Fight |
| | Gymkhana Hall, Mahatma Phule Krushi Vidyapeeth, Rahuri, Ahmednagar | | |
| Labin James | 30 th MKBA Senior Maharashtra State Kickboxing Championship 2016 | PT | Light Contact |
| | Gymkhana Hall, Mahatma Phule Krushi Vidyapeeth, Rahuri, Ahmednagar | | |
| Roshan Shetty | 30 th MKBA Senior Maharashtra State Kickboxing Championship 2016 | PT | Kick Light |
| | Gymkhana Hall, Mahatma Phule Krushi Vidyapeeth, Rahuri, Ahmednagar | | |
| Sanjay Sharma | 30 th MKBA Senior Maharashtra State Kickboxing Championship 2016 | PT | Light Contact |
| | Gymkhana Hall, Mahatma Phule Krushi Vidyapeeth, Rahuri, Ahmednagar | | |
| Mahesh T. Jadhav | 30 th MKBA Senior Maharashtra State Kickboxing Championship 2016 | Gold | Light Contact |
| | Gymkhana Hall, Mahatma Phule Krushi Vidyapeeth, Rahuri, Ahmednagar | | |
| Rahul Salunkhe | 30 th MKBA Senior Maharashtra State Kickboxing Championship 2016 | Gold | Kick Light |
| | Gymkhana Hall, Mahatma Phule Krushi Vidyapeeth, Rahuri, Ahmednagar | | |
| Prajwal Khandare | 30 th MKBA Senior Maharashtra State Kickboxing Championship 2016 | PT | Full Contact |
| | Gymkhana Hall, Mahatma Phule Krushi Vidyapeeth, Rahuri, Ahmednagar | | |
| Balachander Marc | 30 th MKBA Senior Maharashtra State Kickboxing Championship 2016 | PT | Kick Light |
| | Gymkhana Hall, Mahatma Phule Krushi Vidyapeeth, Rahuri, Ahmednagar | | |
| Siddharth Devendra | MKBA Cadet Open Maharashtra State Kickboxing Championship 2016 | SILVER | Point Fight |
| | Gymkhana Hall, Mahatma Phule Krushi Vidyapeeth, Rahuri, Ahmednagar | | |
| Sharon S Dias | 30 th MKBA Senior Maharashtra State Kickboxing Championship 2016 | Bronze | Point Fight |
| | Gymkhana Hall, Mahatma Phule Krushi Vidyapeeth, Rahuri, Ahmednagar | | |
| Megha Deshmukh | WAKO INDIA Senior National Kickboxing Championship 2016 | Gold | Musical Form |
| | Swarna Bharthi Indoor Stadium, Visakhapatanam, Andhra Pradesh | | |
| Preethi Shetty | WAKO INDIA Senior National Kickboxing Championship 2016 | Bronze | Light Contact |
| | Swarna Bharthi Indoor Stadium, Visakhapatanam, Andhra Pradesh | | |
| Mahesh Jadhav | WAKO INDIA Senior National Kickboxing Championship 2016 | Bronze | Light Contact |
| | Swarna Bharthi Indoor Stadium, Visakhapatanam, Andhra Pradesh | | |
| Balachander Mark | WAKO INDIA Senior National Kickboxing Championship 2016 | Bronze | Kick Light |
| | Swarna Bharthi Indoor Stadium, Visakhapatanam, Andhra Pradesh | | |
| Minaz Rain | WAKO INDIA Senior National Kickboxing Championship 2016 | Bronze | Point Fight |
| | Swarna Bharthi Indoor Stadium, Visakhapatanam, Andhra Pradesh | | |
| Vighnesh U. Murkar | WAKO INDIA Senior National Kickboxing Championship 2016 | PT | Point Fight |
| | Swarna Bharthi Indoor Stadium, Visakhapatanam, Andhra Pradesh | | |
| Vanbalan Nadesan | WAKO INDIA Senior National Kickboxing Championship 2016 | PT | Light Contact |
| | Swarna Bharthi Indoor Stadium, Visakhapatanam, Andhra Pradesh | | |
| Vighnesh U. Murkar | 30 th MKBA Cadet & Junior Maharashtra State Kickboxing Championship 2016 | Gold | Point Fight |
| | Shiv Chatrapati Sports Complex, Balewadi, Pune | | |
| Vighnesh U. Murkar | 30 th MKBA Cadet & Junior Maharashtra State Kickboxing Championship 2016 | Bronze | Musical Form |
| | Shiv Chatrapati Sports Complex, Balewadi, Pune | | |
| Balachander Mark | 30 th MKBA Cadet & Junior Maharashtra State Kickboxing Championship 2016 | Gold | Light Contact |
| | Shiv Chatrapati Sports Complex, Balewadi, Pune | | |
| Balachander Mark | 30 th MKBA Cadet & Junior Maharashtra State Kickboxing Championship 2016 | Gold | Kick Light |
| | Shiv Chatrapati Sports Complex, Balewadi, Pune | | |
| Roshan Shetty | 30 th MKBA Cadet & Junior Maharashtra State Kickboxing Championship 2016 | Gold | Musical Form |
| | Shiv Chatrapati Sports Complex, Balewadi, Pune | | HS |
| Roshan Shetty | 30 th MKBA Cadet & Junior Maharashtra State Kickboxing Championship 2016 | SILVER | |
| | Shiv Chatrapati Sports Complex, Balewadi, Pune | | |
| Prajwal Khandare | 30 th MKBA Cadet & Junior Maharashtra State Kickboxing Championship 2016 | Bronze | Light Contact |
| | Shiv Chatrapati Sports Complex, Balewadi, Pune | | |
| Joel Nadar | 30 th MKBA Cadet & Junior Maharashtra State Kickboxing Championship 2016 | SILVER | Light Contact |
| | Shiv Chatrapati Sports Complex, Balewadi, Pune | | |
| Shravya Shetty | 30 th MKBA Cadet & Junior Maharashtra State Kickboxing Championship 2016 | SILVER | Light Contact |
| | Shiv Chatrapati Sports Complex, Balewadi, Pune | | |
| Abhijit Patel | 30 th MKBA Cadet & Junior Maharashtra State Kickboxing Championship 2016 | Bronze | Light Contact |
| | Shiv Chatrapati Sports Complex, Balewadi, Pune | | |
| Abhijit Patel | 30 th MKBA Cadet & Junior Maharashtra State Kickboxing Championship 2016 | Bronze | Musical Form |
| | Shiv Chatrapati Sports Complex, Balewadi, Pune | | SS |
| Daksh Shetty | 30 th MKBA Cadet & Junior Maharashtra State Kickboxing Championship 2016 | SILVER | Point Fight |
| | Shiv Chatrapati Sports Complex, Balewadi, Pune | | |
| Aadi Bachal | 30 th MKBA Cadet & Junior Maharashtra State Kickboxing Championship 2016 | PT | Point Fight |
| | Shiv Chatrapati Sports Complex, Balewadi, Pune | | |
| Rudra Lad | 30 th MKBA Cadet & Junior Maharashtra State Kickboxing Championship 2016 | PT | Point Fight |
| | Shiv Chatrapati Sports Complex, Balewadi, Pune | | |
| Abhishek Sah | 30 th MKBA Cadet & Junior Maharashtra State Kickboxing Championship 2016 | PT | Light Contact |
| | Shiv Chatrapati Sports Complex, Balewadi, Pune | | |
| Balachander Mark | WAKO INDIA Sub junior & Junior National Kickboxing Championship 2016-17 | Gold | Kick Light |
| | Talkatora Stadium, New Delhi | | |
| Balachander Mark | WAKO INDIA Sub junior & Junior National Kickboxing Championship 2016-17 | Gold | Low Kick |
| | Talkatora Stadium, New Delhi | | |
| Abhijit Patel | WAKO INDIA Sub junior & Junior National Kickboxing Championship 2016-17 | Gold | Musical Form |
| | Talkatora Stadium, New Delhi | | |
| Abhijit Patel | WAKO INDIA Sub junior & Junior National Kickboxing Championship 2016-17 | Bronze | Point Fight |
| | Talkatora Stadium, New Delhi | | |
| Roshan Shetty | WAKO INDIA Sub junior & Junior National Kickboxing Championship 2016-17 | Silver | Musical Form |
| | Talkatora Stadium, New Delhi | | |
| Roshan Shetty | WAKO INDIA Sub junior & Junior National Kickboxing Championship 2016-17 | Bronze | k-1 |
| | Talkatora Stadium, New Delhi | | |
| Vighnesh U. Murkar | WAKO INDIA Sub junior & Junior National Kickboxing Championship 2016-17 | Bronze | Musical Form |
| | Talkatora Stadium, New Delhi | | |
| Sheldon D'souza | WAKO INDIA Sub junior & Junior National Kickboxing Championship 2016-17 | Bronze | k-1 |
| | Talkatora Stadium, New Delhi | | |
| Akhilesh Patole | WAKO INDIA Sub junior & Junior National Kickboxing Championship 2016-17 | Bronze | Point Fight |
| | Talkatora Stadium, New Delhi | | |
| Salome Soloman | WAKO INDIA Sub junior & Junior National Kickboxing Championship 2016-17 | Bronze | Point Fight |
| | Talkatora Stadium, New Delhi | | |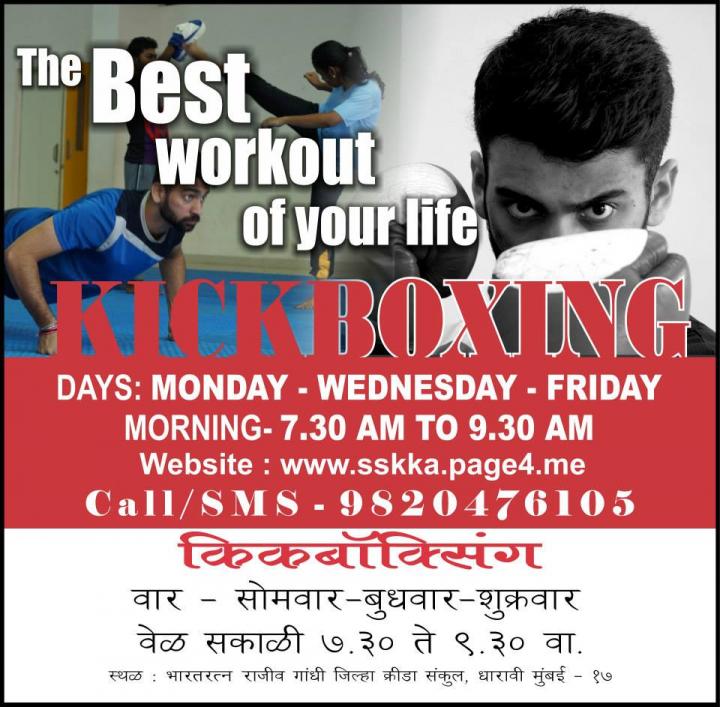 2
Learn to be safe and defend yourself.
1. Be healthier
2. Increase your chances of living longer
3. Feel better about yourself
4. Reduce the chance of becoming depressed
5. Sleep better at night
6. Look good
7. Be in shape
8. Get around better
9. Have stronger muscles and bones
10. Achieve or maintain a healthy weight
11. Be with friends or meet new people
12. Have fun .